Under the Patronage of H.E. Sheikh Nahayan Mubarak Al Nahayan
The ENHG
Al Ain Chapter
Newsletter
The Emirates Natural History Group, Al Ain Chapter, PO Box 18057, Al Ain December, 2005– Issue #231
| | | |
| --- | --- | --- |
| | Merry Christmas ! | |
Patricia writes:
My first Christmas Eve in the Middle East was spent with my friend Bonnie and many others at the ENHG annual barbeque and Christmas carol sing in the desert outside Buraimi, Oman. Seated in groups around a campfire under a darkening sky, we ate food we brought for ourselves and shared with others. Bonnie loves to cook and has lived and worked in many countries over the years and I have now lived in four countries, which will explain much of what we brought to eat. We decided, after consuming the meal, to call it an international dining experience. We ate:
• Ostrich meat chunks from Saudi Arabia marinated in homemade Teriyaki Sauce, skewered with "bamboo
toothpicks" (skewers) made in China, barbequed over charcoal in a one-use grill we bought on the way there
• Potato chunks marinated in Greek salad dressing, baked in foil over the same charcoal fire
• Middle Eastern Tabouleh with Italian dressing and Feta cheese
• Camembert cheese from France on a baguette from the UAE, shared by Kevin, who had recently returned
from a visit to France
• Middle Eastern tomato slices and white cheese marinated in a vinegar/oil/herb dressing, also shared by Kevin
• Mince Pies from England
• Kentucky Butter Cake (to die for!) homemade by Bonnie
• Baked apple wrapped in aluminum foil and cooked over charcoal, shared by one attendee
• UAE dates (delicious!) shared by another generous attendee
While Bonnie skewered ostrich chunks and I got the grill going and put on the potatoes and then the meat, we chatted with each other, Kevin, Bob and Barb and others sitting nearby.
When the meals were finally finished, many of us stood and gathered around a blazing campfire there in the Arabian Desert, listened to a reading about the Savior and then sang Christmas Carols under a sky thick with bright stars, while being enveloped by smoke from burning Frankincense and Myrrh, both of which grow in Oman. Far from home and family in a land where Jesus Christ is considered merely a prophet, a group of people from various Christian denominations joined hearts and voices to sing about the wondrous birth of the Son of God. It was an amazing and joyful experience.

Photos by Kevin Kempe (left)

and

Steve Ehrenberg (right)
This broadsheet is published free to families in the Al Ain area. If you are a member planning an activity with a natural history theme please notify us so that others can join you. Everybody is able to contribute to ENHG and Emirates recordings. For more on our activities please visit our website <www.enhg.org> or join our e-mail discussion group at ENHG@Yahoogroups.com. The Group meets at 7.30pm on the 2nd & 4th Tuesday of the month, usually at the Intercontinental Hotel. New Members are welcome.
---------------------------------------------------------------------------------------------------------------------------------
The ENHG Al Ain Chapter Newsletter…
December, 2005 – Issue #231
Christmas eve in the Desert cont…
Treva writes:
Coming from Arkansas that was a bar-be-que! So much food stuffed on the grills it was falling off!!! The lovely center fire was so nice, warm and illuminating. Will, thanks for the beautiful reading from Ibrahim, he left a real legacy I believe. I only hope each of our passing through this area will be so meaningful. With the reading in the center, starring into the fire, circling the group with beautiful smells of the frankincense and myrrh flowing from the shovel of coals, all made it so magical listening to the Christmas story. Especially nice was the presence of "Doctor Latiffa" thanks for your effort Brien for that. She will be leaving shortly to a new life after 43 years of giving her life here for the reason we celebrate this season of Christmas. I'm sure this will remain as a beautiful memory for her to Celebrate Christmas in the Desert. Will, your flute sounds coming out of the desert was so lovely, you just have to get closer to drink it all in! I thought I heard an echo after the kids asked me to play, but there was another flute player in the desert!!! Without our son for the holidays, it sure was nice to get to watch your beautiful grand daughter! Thanks for the lovely and memorable evening.
Firelight, Khalil Gibran and good company

photo by S. Ehrenberg
Once again, Christmas eve in the desert turned out to be a popular event. More than fifty people turned out with barbeques, blankets, fruit juices, flashlights and song. The first group left the Buraimi Hotel staging area at 4:45 pm and were on site in a half an hour. The area had been cleared the day before by the recce crew and so the first job was to build a stone circle for the fire. The final turn-off was marked out with tea candles leading in to the site and wood was assembled into a nice fire. By then it was dark and the main body of people arrived. Kids played, folks visited, old friends were greeted and hailed. Snacks were passed round and food was cooked and shared. It was the loveliest of sounds to walk out into the desert and hear both the silence of the land and the cheerful murmur of voices as people simply got together for an evening of socializing. After the food came a bit of music. Ibrahim Zakhour's favourite excerpt from Khalil Gibran was read out by various members of the group, and some old familiar songs were sung by all as the fire threw its light about. Thanks to all for coming – thanks to all for bringing such joy with you to share.

Merry Christmas – one and all! and to all a good night!
Yer Ed., Will

--------------------------------------------------------------------------------------------------------------------------------
The ENHG Al Ain Chapter Newsletter…
December, 2005 – Issue #231
| | |
| --- | --- |
| Friday, Dec. 9th trip to the Hafit Tombs & Mezyad Fort | |
On 9th. December, 30 members joined our Friday morning trip. Brien Holmes led the convoy of 11 vehicles for a full morning outing to three exceptional spots along the east side of Jebel Hafit, coincidentally on the day following an official visit to the same area by a team from UNESCO, who are deciding whether Hafit and parts of Al Ain should be designated as a "World Heritage Site"

First stop were the famous Jebel Hafit Tombs. More than 500 graves have been identified along the northern and eastern slopes of the mountain. Most of those on the northern side have been lost to development, but those along the eastern flank are mostly still recognizable, but you do need a good imagination…most are largely now heaps of stones. They lie along the base of the mountain, towards the southern end, whilst some are placed a few dozen metres up the side. The site was first shown to Danish archaeologists by Shaikh Zayed himself in 1959, and 100+ have now been excavated.

For those without an archaeologist's imagination, the Department of Antiquities have restored five of the tombs. Several have been partially rebuilt to show the construction technique. Each tomb has a single round or oval chamber, built of rough local stones. There is no sign of the worked stone of the Hili/ Umm An Nar tombs. One or more ring walls encircle the main chamber, and rise to 3-4 metres above ground. As they rise, the walls gradually slope inwards, to meet at the top in the shape of a dome. There is one narrow entrance, usually facing south (towards the sun?) .
Dating is a problem, as all were robbed many years ago, and few pieces of pottery or artefacts have been found, except a few items originating from Mesopotamia. These tombs date back perhaps 6000 years. Surprisingly also, there is no sign of any human habitation anywhere in the area…so were the dead brought to their graves from a long distance away? The Al Ain Museum has a good leaflet about the tombs.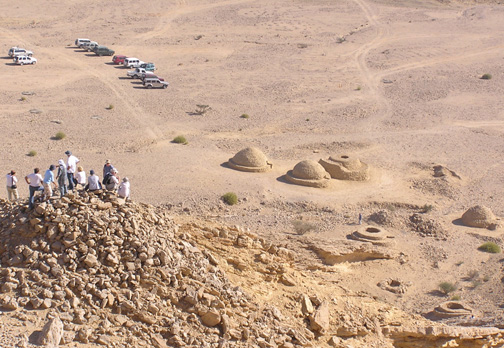 The group standing about on an ancient tomb overlooking the rebuilt tombs at the base of Jebel Hafeet
photo by Richard Morris
--------------------------------------------------------------------------------------------------------------------------------
The ENHG Al Ain Chapter Newsletter…
December, 2005 – Issue #231
| | |
| --- | --- |
| Friday, Dec. 9th trip to the Hafit Tombs & Mezyad Fort cont... | |
Then, Geoff Cosson agreed to lead us across pretty rough ground towards the Mezyad Fort, but avoiding causing consternation by approaching the Oman border fence with a big convoy of trucks! All coped well with steep wadi dips & climbs, boulders and soft sand.
Mezyad Fort is the great unknown wonder of Al Ain. Located on the west side of the main road into Oman, just before the UAE exit post, it is nearing the end of a grand restoration. You get in by approaching the large walled farm, and speaking to the gatekeeper. Driving into the farm, (which is a place worth seeing by itself, with luxuriant vegetation), you follow the road round towards the huge fort in the corner, which is open to the public, and has a new 'interpretation' board outside.
In more recent times, it served as the border post barracks, and is built on a surprisingly big scale. Around the large open courtyard (newly planted, with ill-chosen palms!), there are rooms for soldiers and storage etc…over 40 of them. The 3 round towers and fourth rectangular keep are all accessible, as are all the walls, and everything has been repaired using authentic mud facing and palm beams. You can see the piles of mud bricks recently made for the continuing restoration work. From the top of the towers, there is a spectacular view across the palms in the farm to the steep rugged sides of Jebel Hafit. At only 15 minutes from the Hilton, Mezyad Fort is rarely visited, but shouldn't be missed. Zaki was really impressed, and wants to hold a concert there.
Finally most of us returned to the city via Wadi Tarabat, a regular insect-trapping spot, where many of the fabulous wildlife photos in the Jebel Hafit book were taken. This wadi has received some protection by the authorities, and access is now closed off to protect the landscape from both hungry livestock and messy people. The protected habitat is being studied as it returns to a more original condition, and is monitored by our ENHG group. Of particular interest is the protection this gives to the wild tahr, the long-haired goats which still cling to parts of our mountain.
Books on the archaeology and wildlife of Jebel Hafit are kept in the ENHG Library. The catalogue is on the website, & members can borrow books on 'workshop nights'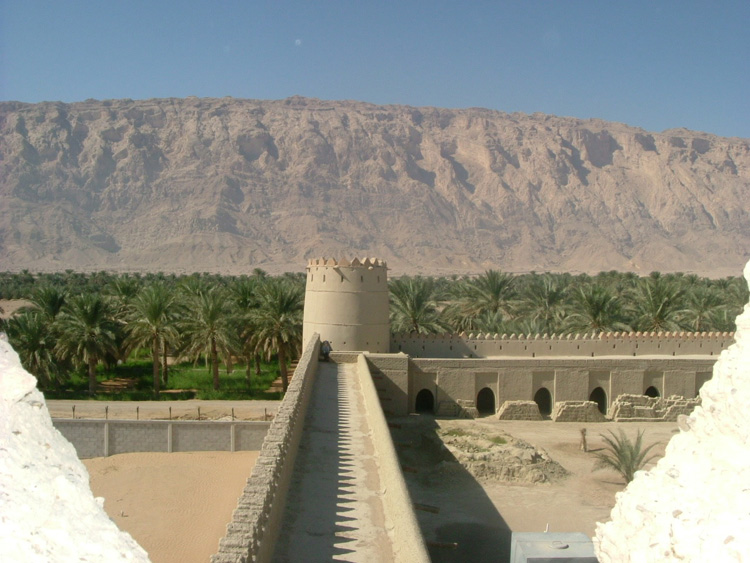 Mezyad fort and oasis with Jebel Hafeet behind
photo Sue Craig
--------------------------------------------------------------------------------------------------------------------------------
The ENHG Al Ain Chapter Newsletter…
December, 2005 – Issue #231
Inter-Emirates Weekend – 2005 / 2006
Thursday-Friday, 16-17 March 2006 – Ras Al-Khaimah
Each year in March/April the UAE's three Natural History Groups – Emirates Natural History Group Abu Dhabi, Emirates Natural History Group Al Ain and the Dubai Natural History Group – get together for an educational yet social weekend involving a dinner and various activities and trips. It is a chance to meet up with people/old friends from the other groups. The event is organised annually by one of the groups in rotation. This year it is the turn of the Dubai Natural History Group.
IEW 2006 will be based at the Ras Al-Khaimah Hotel, Ras Al-Khaimah and the program will begin on Thursday morning, March 16. The hotel has made a block booking of rooms for the weekend on a first-come first-served basis. However, in view of the increased tourism in RAK and the peak season date of IEW, it will be necessary to confirm and guarantee your booking by the end of January 2006, i.e., six weeks prior to the event. We recognize that not everyone finds it ideal to plan that far ahead, but the hotel cannot hold the rooms on any other basis.
Hotel rates (per night) are:
Double Room/Twin Room – Dh 350 (inclusive of breakfast & tax)
Single Room – Dh 300 (inclusive of breakfast & tax)
Children below 12 years may stay free.
On Thursday evening there will be a buffet dinner (Dh 60 per person incl.) plus entertainment. Packed lunches are available for Thu and Fri for Dh 55.
To make a reservation, either e-mail the hotel – rakhotel@emirates.net.ae or fax on 07-236-2990, Attention Reservations – Johnson. Hotel phone number is 07-236-2999. Mention Dubai Natural History Group – Inter-Emirates Weekend when you make your booking.
Among the activities that we expect to offer are:

• Shelling at Rams beach
• Off-road driving "over the top" from RAK to Dibba, via Wadi Bih (Friday only)
• Guided tours of RAK archaeological sites, including:
Shimal Falayyah
Kush Qarn Al-Harf
Julfar Kilns at Wadi Haqil
Dhayah Fort
• Mountain walks in the Musandam
• Birdwatching
• RAK Museum

Further details will be given at meetings and in the next Gazelle, and a programme will be completed and circulated by mid-January. For more details in the interim, contact DNHG Vice Chairman Valerie Chalmers on 04-3494816 or valeriechalmers@hotmail.com.

How long can men thrive between walls of brick, walking on asphalt pavements, breathing the fumes of coal and of oil, growing, working, dying, with hardly a thought of wind, and sky, and fields of grain, seeing only machine-made beauty, the mineral-like quality of life? ~Charles A. Lindbergh, Reader's Digest, November 1939
--------------------------------------------------------------------------------------------------------------------------------
The ENHG Al Ain Chapter Newsletter…
December, 2005 – Issue #231
| | |
| --- | --- |
| | article and photos by Louise Lambert |
Mabrook! Al Uroos wa Al Urees….
When I was in Sana'a this summer learning Arabic, the most enjoyable times were the impromptu festive weddings that seemed to come out of nowhere. From a narrow quiet alley draped in shade and bougainvillea came a small boy banging on a drum and shouting, "A Wedding, come, I'm announcing a Wedding!" behind him men from the respective family banged on smaller drums and the procession grew larger as uncles, cousins, close neighbors attached themselves to the winding snake-like party shouting in the narrow alleyways.
Neighbors in Old Sana'a, families living side by side for generations, hang out the windows and shout back, the women cover their faces with the curtains and ululululu loudly, sounds piercing and reaching the sky. The boys rush out to be 'almost' grown men by following solemnly and picking up the tail end of the party. The older men nod and shake the hands of the patriarchs announcing the news, while little girls with sparkling eyes meander amongst the crowd, not yet old enough to be in any one category. Their pink dress hems sweep the cobblestones, they follow for a moment but their game of marbles is far more interesting and descends into a cascade of shy giggles.
At night, bright lights line hundreds of public squares in the city set up for communities and families like these to gather and celebrate. By nightfall, more drumming, shouting and singing on one street, and giggles and ulululu's on another.

A wedding announcement

The men's celebration is outside and female foreigners eager and honored to infiltrate the party are popular and welcome intrusions. Pulled and pushed this way and that in order for us to get the perfect picture, they pose for a second and resume the celebrations as though we had been commissioned for this purpose. The music blares on loudspeakers and live music is simultaneously (although not harmoniously!) played at the same time.


A wedding song
--------------------------------------------------------------------------------------------------------------------------------
The ENHG Al Ain Chapter Newsletter…
December, 2005 – Issue #231
It's pure noise and somewhere in it, the men begin to line up, separate, regroup, converge in a circle, only to reappear in a square formation and then back into a line, holding hands, elbows, brandishing daggers, riffles, swords, jumping, swaying, sashaying, walking, front and back, kicking, the crowd stands close and moves like an elastic to accommodate the dancers of the moment.

And just as soon as it arrives, it moves a few meters at a time and winds its way down to the tent over an hour later where the celebrations will go on



A wedding dance in old Sana'a
all night and where a camel or goat has been slaughtered and where bundles of fresh qat await party goers with too-sweet pink Canada Dry sodas to wash it all down. Sponta-neous rifle shots will make themselves heard in the evening amidst the stars of a clear night and resonate above the mud homes of Old Sana'a where the curious watch through latticed porticoes and where those who, not from here, watch and listen from still rooftops in the night.
---
| | |
| --- | --- |
| Falconing – a Hobby ? a Sport? Or a Lifestyle? | by Jeff Imes |
Members of the ENHG who accepted Guy Foster's invitation to see a falcon training and exercise session enjoyed a special treat this December. About a dozen of the magnificent birds and almost as many owners were gathered in the desert west of Al Foah. The falcons varied in size from large to small and in color from dark to light, and in breeding from wild to hydrids; each beautiful in its own way. The image of the large cluster of facons sitting on perches driven into the sand, each with a colorful and decorated head cover, was amazing in itself. As each falcon was released, an owner stationed about a 100 meters away began twirling a rope with a bustard (?) wing attached to the end in a circle overhead to attract the falcon. The birds soared and dove at the wing, while the owner endea-vored to keep the wing just out of the grasp of their talons. After many attempts, the wing was captured and trapped to the ground. The falcon was rewarded with a piece of meat before it could tear apart the wing.
Occasionally, the falcon would have other ideas, and would take to the skies instead of attacking the bait. Then there was a flurry of activity as the owner dashed off across the dunes in his 4x4 while tracking the bird through the tiny radio transmitter attached to its back. As he got near the bird, he would jump out of the vehicle and twirl the wing. The birds couldn't resist, and were soon captured and brought back.
As the sun began to set, and the falcons were being collected, many of the group got an early start on the Emirates environmental cleanup by picking up a considerable amount of trash from the area.


Sadara – Guy's hybrid gyre-saker – less than 1 year old
photo by Kevin Kempe
--------------------------------------------------------------------------------------------------------------------------------
The ENHG Al Ain Chapter Newsletter…
December, 2005 – Issue #231
| | |
| --- | --- |
| Guy Foster with friends and falcons photo by Jeff Imes | Using kid gloves to handle a problem photo by Jeff Imes |
---
Interview with a Middle East Water Expert submitted by a concerned member
[This report does not necessarily reflect the views of the United Nations]
DUBAI, 28 December (IRIN) - Water availability in the Middle East will continue to remain problematic and a potential source of conflict, according to water expert Dr Walid Saleh.
Dr Saleh has worked with the United Nations University/International Network on Water, Environment and Health in Abu Dhabi since 1996.
In excerpts from an interview with IRIN, he said while some efforts were ongoing to improve supplies, better water management was essential.

QUESTION: How severe is the problem of water scarcity in the Middle East?

ANSWER: It's widely recognised that the Middle East North Africa [MENA] region is by far the driest and most water-scarce in the world, and that this is increasingly affecting the economic and social development of most countries in the region. MENA has 5 percent of the world's population with less than 1 percent of the available freshwater resources.
Today, average per capita water availability in the region is about 1,200 cubic metres per year, while the world's average is close to 7,000.
The annual water availability in the region ranges from a high of about 1,800 cubic metres per person in Iran to less than 200 cubic metres per person in Jordan, the West Bank/Gaza and Yemen. By 2025, regional average water availability is projected to be just over 500 cubic meters per person per year.
While conventional water availability remains relatively constant, the demand is increasing sharply as a result of population growth, increases in household income and irrigation development. Population growth and rapid development are constantly placing increasing demands on the limited water resources.
It is estimated that the need for water supply in the region will increase from 170 billion cubic metres in 2000 to 228 billion cubic metres in 2025.

Q: Why is the Middle East's problem particularly serious?

A: Ninety percent of the region is classified as arid and hyper-arid. The region has low average rainfalls, high summer temperatures and high evaporation and transpiration rates. The limited surface water has to be shared between different countries. Groundwater, the main source of water in many countries, is also being extracted well beyond its renewal rate in some areas.
In some cases, governments are tapping into fossil groundwater resources and, where feasible, have initiated sea water desalination projects. But worsening water quality further reduces the availability of freshwater suitable for domestic and agricultural use and increases the cost of treatment and reuse.
Increased water contamination due to inadequately treated wastewater is also affecting public health - particularly of children - in rural areas, where access to clean water and sanitation is still lacking in most countries of the region.
What's more, the water resource situation is becoming bleaker due to droughts occurring with greater frequency and of longer duration. Droughts have affected almost every country in the region over the past decade.

Q: What are the major problems resulting from water scarcity?

A: Unless improved water management plans are put in place, a series of water-related issues will interact to cause major environmental problems in the future.
These issues include an escalating demand for water; the deterioration of water quality; inefficient methods of wastewater treatment and solid waste disposal; and escalating conflicts over shared surface and groundwater resources if agreements are not reached on equitable allocation.
--------------------------------------------------------------------------------------------------------------------------------
The ENHG Al Ain Chapter Newsletter…
December, 2005 – Issue #231
Interview with a Middle East Water Expert cont...
Q: Which countries in the region are worst affected and why?

A: Jordan and Yemen are the worst affected by water scarcity due to their limited water resources, limited rainfall and lack of finances.

While water resources in Jordan have fluctuated around a stationary average, the country's population has continued to rise. A high rate of natural population growth, combined with massive influxes of refugees, has transformed the comfortable balance between population and water in the first half of this century into a chronic and worsening imbalance in the second half.

The situation has been exacerbated by the fact that Jordan shares most of its surface water resources with neighbouring countries, whose control has partially deprived Jordan of its fair share of water.

The most serious problem in Yemen, meanwhile, is the rapid depletion of groundwater resources. Almost all the important groundwater systems in Yemen are being over-exploited at an alarming rate.

The socio-economic consequences are dramatic and will make groundwater too expensive for use in agriculture in the future. The agricultural economy based on groundwater irrigation is doomed to collapse if water resources are not adequately controlled.

Q: What current means are being employed to address the issue?

A: Several countries have embarked on reforming their water sector and some others have made a good start. Many countries, in partnership with donors and financial institutions, are taking steps in water sector reforms. A shift in thinking and action in water management is slowly taking place in the region.

Q: What methods would be more effective in improving the situation?

A: Despite the efforts being made, the complexity of the water and environmental issue calls for a stronger commitment, especially with regard to legislative frameworks, resources allocated to ensure environmental protection, coordination between policies and strategies and the availability of a comprehensive environmental database.

Water will continue to be a major challenge in the MENA countries. In order to remedy this, governments need to make additional efforts to ensure greater cooperation among their ministries and agencies.

The impending crisis requires a new strategy to alleviate the impact of development activities on freshwater resources and to identify a means of reconciling competing demands for water.

Q: How big a factor is pollution in the shortage of water in the region?

A: The main challenge for the sustainability of water resources is the control of water pollution. Pollution of ground water with heavy metals, the loss of natural ecosystems, the depletion of ground water, pollution of water bodies, and the salinisation of soils are all factors contributing to water scarcity.

Q. What are the solutions to the problem of water pollution?

A: The treatment of industrial and domestic wastewater. Also, advocating organic farming and limiting the use of chemical fertilizers and pesticides to reduce crop, soil and water pollution.

Q: How committed are the region's governments to finding a permanent solution?

A: Generally, all governments in the region are committed to water reforms. However, the level of commitment from one country to another varies depending upon available solutions and finance