Under the Patronage of H.E. Sheikh Nahayan Mubarak Al Nahayan
The Emirates Natural History Group, Al Ain Chapter, PO Box 18057, Al Ain February, 2005 – Issue #225
Ras Al Khaima Weekend Tour – Feb 9 - 11


article & photos by Will Moore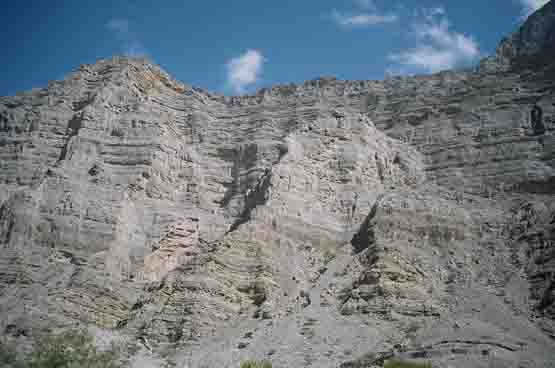 The mountains above Wadi Sili in RAK are ancient sea-bed stone.
No question about it – the RAK trip was a success! From the Dhow yards to the mountain village of Sili, the twelve people on the tour were engaged in serious contemplation of both ancient and recent history. No words can summarize the experience properly. For myself, the day spent in Wadi Sili at the yanz (grain storage stone structures) site and the village was the most interesting. The village site is world class and should become a UNESCO World Heritage site as far as I am concerned. But I get ahead of myself. Let me begin at the beginning and attempt to summarize the tour.
After driving to RAK on Wednesday, we all gathered at the Hilton hotel parking lot on Thursday morning at 8:00 am. We left two cars there and headed north to the Dhow building yards located near the tall power-line tower. Here an oversize dhow is under construction – a "boom" – as ships of this size are called. The keel had been laid, bow and stern posts erected and maybe the first eight hull planks fit into position. Some of the ribs were being cut while we were there. High tech? – yes, if you count using a Hyab hydraulic hoist to move the heavy planks around – no, otherwise. Skilled workers chiseling away at large pieces of Malaysian, Indian and possibly African or Thai wood with mallets - as it has been done for centuries – was the task of the day. The scale of the ship in itself is impressive, but the fact that the application of simple curves and joints to form this floating mammoth comes from a single mind is staggering. No engineering department, no blueprints or
This broadsheet is published free to families in the Al Ain area. If you are a member planning an activity with a natural history theme please notify us so that others can join you. Everybody is able to contribute to ENHG and Emirates recordings. For more on our activities please visit our website <www.enhg.org> or join our e-mail discussion group at ENHG@Yahoogroups.com. The Group meets at 7.30pm on the 2nd & 4th Tuesday of the month, usually at the Intercontinental Hotel. New Members are welcome.
---------------------------------------------------------------------------------------------------------------------------------
| | |
| --- | --- |
| The ENHG Newsletter… February, 2005 – Issue #225 | |
Ras Al Khaima Weekend Tour – Feb 9 – 11 cont…
scale models – no factory-line mass production, and no white-collar/blue-collar distinctions mar this 'scape by the sea. I must return (to the sea again…) to see how fast this ship takes shape. Will it sail to Malaysia and on to China, or around the Cape to Lagos, Casablanca or even Rio de Janiero?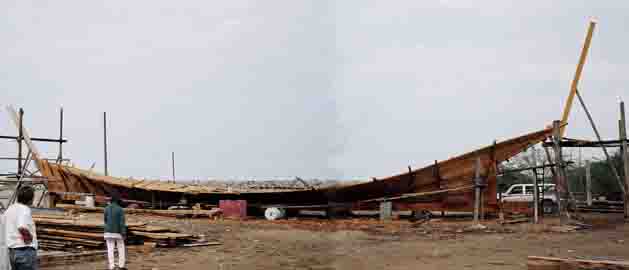 The "boom" under construction at the Dhow yard in RAK – the hull will extend upwards to the height of the two posts, bow and stern.
Adjacent to this shipyard site is a new addition to dhow building – the racing dhow shipyard. Here, small scale racing hulls are constructed – to be used in events such as the National Day cele-brations, December 2 each year. Rumor has it that an 18 man racing hull will only cost you 37,000 Dh, but you can have one made for seven men if this is too much. They are things of beauty.

Skilled workmen chisel huge ribs to shape

The owner greeted us and welcomed us to his humble place of business. We were able to examine the work in progress – some refurbishing and some new construction. These sleek hulls have layer upon layer of varnish applied – annually. Apart from the use of vibrating sanders, there was no evidence of any hi-tech equipment. Just good old hands-on wood-working. I envy those people who get to work in RAK as they can drop in anytime to check on the latest developments at these two most interesting sites.


Left: - one of the racing hulls under construction at the RAK dhow yards. Note the sheen of the varnish and the smooth lines of the hull.
---------------------------------------------------------------------------------------------------------------------------------
| | |
| --- | --- |
| The ENHG Newsletter… February, 2005 – Issue #225 | |
Ras Al Khaima Weekend Tour – Feb 9 – 11 cont…

From the dhow yards, we continued on to the morning fish souq in old RAK. A good variety of species were available and we got to watch the fish cleaners flash their knives. Then it was on to the RAK museum where one of the finest Gulf waters shell collections is on display. The Archaeology room was a great attraction as it held many items taken from the sites we would visit later in the day. The Wadi Suq period, Julfar, and Iron age sites are well represented. The presentation on the pearl industry is very good. The courtyard provided cool, quiet relief and after an hour and a bit we were on our way to the area known as Shimal – an ancient settlement from 1500 - 1000 BC. Here, are long stone-capped tombs – we must have seen a dozen or more


A fish souq offering
The RAK m,useum courtyard – a quiet shady respite.

All ancient ruins are close to the mountains, because the sea has receded over the millennia so that some kilometers of flat land are now available for man. The present day site of Ras Al Khaima is all relatively new ground, but watch-towers, located inland from the sea provide a clue to where the shoreline was several thousand years ago.

during the morning – some excavated properly by archaeologists. There is also a small site showing walls, a well, falaj, and other signs of settlement. The setting is quite unique.

The Shimal site is located at the base of a small pyramid-shaped outcrop.

The area is full of ancient bits and pieces which accumulated over the millennia and are often not associated with each other except through physical location – there being some thousands of years separating their construction. And the surface has hardly been touched by the archaeologists. Much work remains to be done. Again we moved on, southward to the next site – Sheba's Palace.

Left: The watchtower at Shimal – an ancient shoreline.
---------------------------------------------------------------------------------------------------------------------------------
| | |
| --- | --- |
| The ENHG Newsletter… February, 2005 – Issue #225 | |
Ras Al Khaima Weekend Tour – Feb 9 – 11 cont…
Sheba's Palace has no relationship with the Queen of Sheeba – let us be clear on this. But it is a massive structure located on top of an outcrop right back against the mountains. It is fortified, has its own large stone-lined reservoir, and commands a view of almost the entire RAK plain.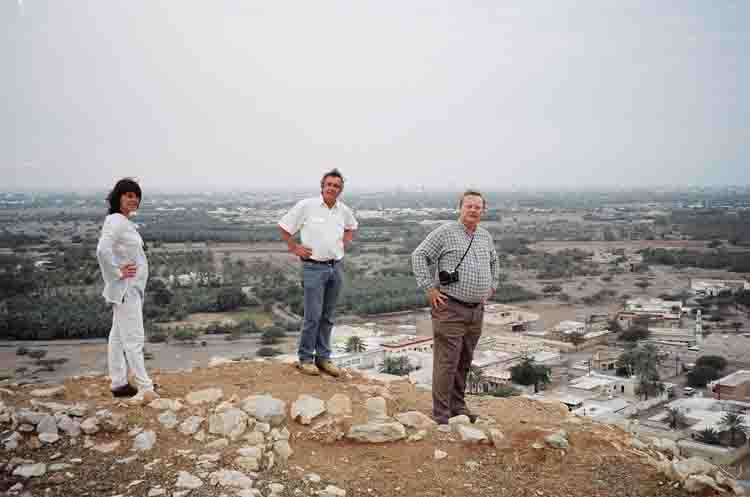 Brigitte, Brien and Steve with the view from Sheba's Palace - a large area of the RAK flatlands – in the background.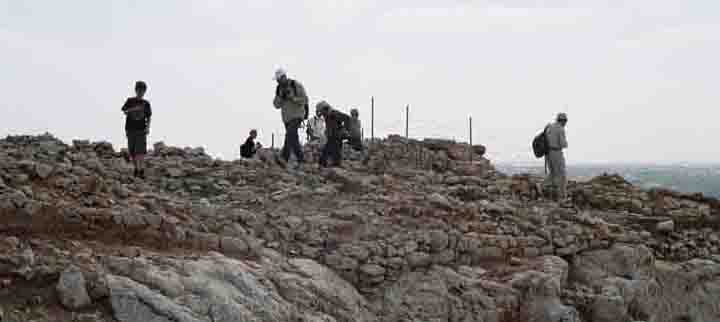 The group taking in Sheba's Palace – there are 265 stair steps leading up to this site – no clambering needed. The fenced off area guards a hidden room several meters deep. The cliffs are nearly sheer on three sides. Someone knew what they were doing when they selected this site.

---------------------------------------------------------------------------------------------------------------------------------
| | |
| --- | --- |
| The ENHG Newsletter… February, 2005 – Issue #225 | |
Ras Al Khaima Weekend Tour – Feb 9 – 11 cont…
From Sheba's Palace, we moved on to Falayah – a site of great importance more recently in UAE history as this is where the ruler of Ras Al Khaima and other sheikhs of the Gulf region signed a treaty with Britain, forming the Trucial States in 1819 – the predecessor to the UAE. The site is closely associated with a farm that existed there over the previous hundreds of years – which is the subject of archeological study. And finally, we stopped at the deserted city of Jazeerat Al Hamrah, the first city to be built with oil money in the late 50's. This site evoked many strange feeling amongst group members as it is still new enough to remind us of our own homes – places we do not associate with "history." The use of beach sand to make the concrete guaranteed a swift end to the place as the salt simply dissolved causing failure of walls. The extensive use of coral as a building block material is unbelievable – until you consider the use of timber in Canada – it was simply a natural resource readily available!
Some members met for dinner at the Sahari restaurant Thursday evening, while others took advantage of the outing for some private time. It was a fine day, but Friday held more in store than Thursday.
At 8:30 Friday morning the group headed north to wadi Silli and old Silli village. Our first stop was right up against the base of the mountains at a "yanz" site. These rock "granaries" are so well camouflaged that from a mere 200 feet you can look right at them and not see them.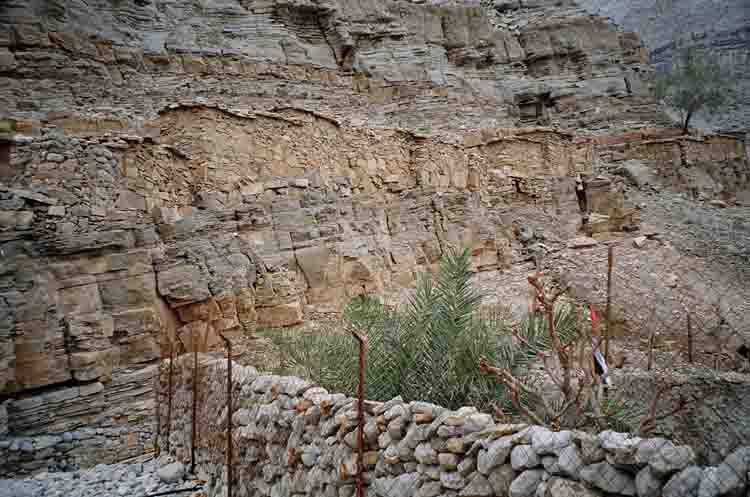 The "yanz" from 50 feet away are practically invisible – you might notice the roof lines, or you might not!
Some are in current use. The terraces here are the result of great labor, with retaining walls of 2 meters in height and several hundred meters in length. There is evidence of falaj-type channels leading from the adjacent wadi to the fields. A large reservoir still remains, wet in the bottom. The use of huge boulders in the building of the yanz and walls is near unbelievable. It is no wonder the site was not "discovered" (by westerners) until quite recently. This site is worthy of some special effort to rebuild those yanz that are fallen in now. It would make a fine project for a community-minded group. Of course the consent of the nearby community would be essential. And it might lead to a larger project to restore the old village of Sili – a project worthy of UNESCO involvement, as the photos on the next page may show. I hope you get the opportunity to visit someday. I know I'll be returning.
---------------------------------------------------------------------------------------------------------------------------------
| | |
| --- | --- |
| The ENHG Newsletter… February, 2005 – Issue #225 | |
Ras Al Khaima Weekend Tour – Feb 9 – 11 cont…
| | |
| --- | --- |
| The yanz - from above.. | The reservoir at the yanz site is over 2 meters deep. |
| Extensive terracing at the old Sili village created fertile fields where barren rock surfaces existed. | Even today some homes retain their lovely appeal. |
The rock work is of exceptional quality – note the overhanging roof rock.

Two of three large pottery kilns in the village

I cannot exaggerate the amount of work that has gone into the building of terrace walls – a gradual process, I believe, with a new layer being added every few years as the soil accumulated. The kilns could easily handle pots of .75 meter diameter. Small shelves within them provided different temperature zones for the various pots being cooked.
---------------------------------------------------------------------------------------------------------------------------------
| | |
| --- | --- |
| The ENHG Newsletter… February, 2005 – Issue #225 | |
Ras Al Khaima Weekend Tour – Feb 9 – 11 cont…
The village is split into 4 levels or areas, possibly developed in stages due to expanding needs, or possibly developed in parallel by four family groups – this remains to be determined. There is no question that this was a peaceful farming settlement as no fortifications are evident. The steep ground may have given the occupants enough of an advantage that fortifications were not considered necessary. So many questions!
The Inter-Emirates Weekend,
16-18th March 2005
Every year the Al Ain, Dubai or Abu Dhabi Natural History Group organises a weekend of activities to which all members throughout the UAE are invited. Organised activities include exhibitions, quizzes, excursions, family activities, a communal dinner, and the opportunity to meet members from other chapters who share similar interests. This year the Inter-emirates Weekend (IEW) is being hosted by Abu Dhabi at the Mafraq Hotel. The event will also provide an opportunity for Abu Dhabi Chapter to present the Sheikh Mubarak and Bish Brown Awards for 2004, and this will take place at the formal dinner on the Thursday evening.
Wednesday 16th March
Our weekend will begin with the opening, at midday Wednesday 16th March, of an ENHG Registration Desk, which will be located close to the Mafraq Hotel Reception area. Sign-up sheets for most of the excursions will be available at the ENHG Registration Desk. It is recommended that participants book in to the hotel, and confirm their accommodation and meal requirements (which may mean thinking forward to packed lunches on Thursday/Friday) after registration. The Registration Desk will be staffed permanently until approximately 10am on Friday morning to allow arriving participants to register.
In the afternoon there will be a flora and fauna competition (Perimeter Walk) in the grounds of the hotel. There will be a slide show near the Registration Desk to help participants with their identification. This activity will be repeated on Thursday morning.
There will be a Natural History Display on the first floor of the hotel, with quizzes attached.
A display of members' photographs will be mounted and judged by participants and a selection of the winning photographs will be used to produce an ENHG calendar for 2006. Participants (Junior and Senior) wishing to submit photographs should email newsletter@chirri2000.com or contact Hazim Chalabi (050-6145155, email: hchalabi@adco.ae) for further details. Closing date for entries in the Photography Competition will be Wednesday 16th March 2005.
In the evening (19:00-20:00), Alan McGee give a talk on the basics of GPS navigation (sign-up sheet at Registration Desk) and at approximately 21:00, after dinner, there will be a quiz on a variety of natural history topics.
The emphasis on Wednesday will be on 'in-hotel' activities, socialising and meeting other members and their families.
All excursions will start in the lobby of the Hotel. For some excursions numbers will be limited (allocated on a 'first come first served' basis) and other trips (ie, sand driving & dhow) will need to be pre-booked. Please take the time to look at the brief descriptions that follow so that you have the chance to plan your time and book if need be.
---------------------------------------------------------------------------------------------------------------------------------
| | |
| --- | --- |
| The ENHG Newsletter… February, 2005 – Issue #225 | |
IEW 2005 cont…

Thursday 17th March
06:30 – approximately 10:00: Bird Watching with Andrew Twyman. No limit on numbers.
Andrew is a regular visitor to the fodder fields in Al Wathba, where, arguably, the best bird watching in Abu Dhabi emirate is possible. Saloon cars may participate. A sign-up sheet for this activity will be available at the ENHG Registration Desk.
08:30 – midday: Al Wathba Wildlife Sanctuary with John Newby.
John will lead a group to this nearby sanctuary, which has many reptiles, aquatic birds, mammals and a variety of plants. A 4WD vehicle is NOT required. A sign-up sheet for this activity will be available at the ENHG Registration Desk.
08:45 –10:30: Mafraq Perimeter Walk. No limit on numbers.
This will be a repeat of Wednesday's flora and fauna walk, guided by at least one local expert. There will be a checklist and younger members will be able to draw their answers in order to enter for the competition. This activity can take place at any time during the day. There will be a slide show at the ENHG Registration Desk to familiarise participants with some of the plants they will encounter. A sign-up sheet for this activity will be available at the ENHG Registration Desk.
09:00 – 17:00: Sand Driving for Beginners with Alan McGee.
Alan McGee will set off at 09.00 for a nearby location ("Ghaftain") with a group wishing to master basic sand driving skills. They will start with a talk and demonstration followed by lunch. In the afternoon newly taught techniques will be tried and tested on location. Packed lunch needed. For safety reasons, places for this activity are limited and advance booking is needed. Email Alan.McGee@zu.ac.ae to book.
09:00 – 18:00: Miocene Elephant Tracks and Desert Ecology with Drew Gardner.
Drew Gardner will lead a trip to the elephant tracks, and cover aspects of desert ecology on this whole day trip. The site is approximately 90 min from the hotel by car. A 4WD, and a packed lunch, is needed. A sign-up sheet for this activity will be available at the ENHG Registration Desk.
10:30 – 16:30: Spoon Worm Walk (Ras Hanjurah), with Dick Hornby. Four vehicles maximum.
Dick Hornby will lead a limited group of vehicles to a coastal area near Taweelah, about 45 minutes from the hotel to look for an extraordinary creature: the Spoon Worm. There will be a stop for birds. The mangrove habitat requires wetsuit boots or sandals, sunblock and hats. Packed lunch required. A sign-up sheet for this activity will be available at the ENHG Registration Desk.
16:00 – 19:00: Mammal Trapping with Chris Drew.
This activity will take place in two parts - Thurs pm and Fri am. Chris Drew will lead a group to a location where desert mammals can be found. Chris will explain techniques to participants who will help to set traps and then return to the hotel. Four wheel drive vehicles only. A sign-up sheet for this activity will be available at the ENHG Registration Desk.

During the evening on Thursday, Brigitte Howarth (Al Ain Chapter) will set up an insect trapping station – it will provide an excellent chance for IEW participants to find about what type of insects are flying around in the Hotel grounds. Please take the opportunity to have a look (but watch where you step!).
21:00 – 01:00: Star Gazing with Alan Carruth.
After the IEW dinner Alan Carruth will lead a group to a nearby dark location (approximately 20min drive from the Hotel), where the group will spend some time looking at the heavens above. A sign-up sheet for this activity will be available at the ENHG Registration Desk.

---------------------------------------------------------------------------------------------------------------------------------
| | |
| --- | --- |
| The ENHG Newsletter… February, 2005 – Issue #225 | |
IEW 2005 cont…

Friday 18th March
Two of Thursday's excursions are repeated on Friday: Bird Watching (06:30 onwards) and (if there is sufficient demand) the Spoon Worm Walk (10:30 – 16:30) …………… and the mammal traps set on Thursday evening will be checked on Friday morning (time TBA).
09:00 – 12:00: Sand Driving for Advanced Learners with Alan McGee.
Alan McGee will conduct a three-hour activity for drivers who already have sand driving skills and who wish to improve. Either packed lunch or return. For safety reasons, places for this activity are limited and advance booking is needed. Email <Alan McGee@ zu.ac.ae> to book.
08:30 – 16:00pm: Island Dhow Trip. Large group activity. Cost: approximately 65 AED per person
Participants will check out from the hotel by 08:30 and drive to Abu Dhabi city to link with a dhow, which will take them to a nearby island (most likely Futaisi Island, alternatively Bahraini Island – the destination will be confirmed ASAP). Participants will be able to go on guided walks have lunch and there is a possibility that there will be some opportunity for swimming. The dhow will return to Abu Dhabi at 16.00. Advance booking is needed for this trip. Email address for booking: allestree.fisher@hct.ac.ae or tel. 02-6775717.
THURSDAY NIGHT DINNER
The dinner on Thursday night will be held around the pool area of the Hotel (from 19:30). During the evening the winners of the Sheikh Mubarak and Bish Brown awards will be announced, as well the winners of the photography competition and floral walk.
MAFRAQ HOTEL DETAILS
The Mafraq Hotel is conveniently situated at the intersection of the east-west highway and the Al Ain road, 35 kms from Abu Dhabi. A special Group Rate has been negotiated, and it is recommended that intending participants make their own reservation as soon as possible. The rates are as follows:
Mafraq Hotel Rates (inclusive of 16% service charge):
• Deluxe Single Room with half board (breakfast + Barbecue Dinner) AED 350/- net per night
• Deluxe Double Room with half board (breakfast + Barbecue Dinner) AED 350/- net per night
• Deluxe Single Room with breakfast AED 230/- net per night
• Deluxe Double Room with breakfast AED 270/- net per night
(Room accommodation is free for children under 12).
For bookings tel: 02-7155856 / 02-5822666, email: mafraq@emirates.net.ae. Members are asked to book directly to the Hotel Bookings service, as above.
Directions to the Mafraq Hotel can be supplied to you on request. Please email newsletter@chirri2000.com if you would like directions to be sent to you.
*** *** ***
All in all the weekend promises to be informative as well as entertaining. We are looking forward to seeing you there!
---------------------------------------------------------------------------------------------------------------------------------
| | |
| --- | --- |
| The ENHG Newsletter… February, 2005 – Issue #225 | |
Mountain trip
Article and photos by khudooma Al Na'imi
My friend Alan is a very intelligent man, he is satisfied in his family and work life. On the other hand he is very worried about one thing - which is the mountain trip. He loves these beautiful Creatures from Stone fixed deep in the ground, raised with beautiful architecture, painted to include wadis, valleys, running arteries of water, home of many reptiles, insects, plants, animals, etc. Also, they include fingerprints of humans who lived and built their own tiny civilization one time in history and continue to do so.
If Alan does not like mountains, it's up to him - nobody can make him go there, but it seems that he likes mountains, he just does not know how he can overcome his fear and anxiety.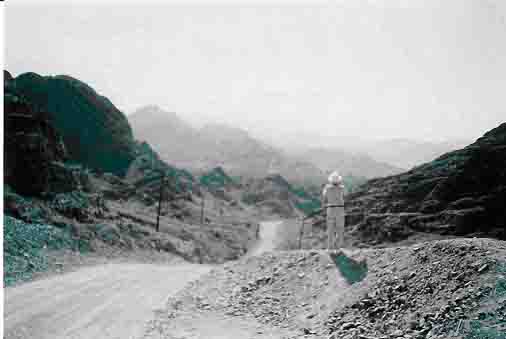 Dr. Tom Weeks at the doorstep of Wadi Khutwa
Without going deep inside the medical meaning, anxiety is an unpleasant emotional state consisting of psycho-physiological responses to anticipation of unreal or imagined danger. Don't forget that some fear is very important to our life and health. Feeling anxiety and fear about a trip to the mountains could be accumulated from traumatic past of accidents (falls and injuries), the influence of other peoples' thoughts about mountains, and personal negative ways of thinking.

Know you fear and talk about it to somebody who can listen and understand. Maybe your fear is about slipping - catching your leg between rocks, flying eagles, animals or the feelings of the people living in the area who will start looking at you. Your listener can clear you fear and explain to you the unknown.

Read about the area which you are interested in visiting, so you know what others write about it and where the beautiful spots are (and where the unpleasant ones are located).

Make yourself ready by considering things such as the type of car you need, GPS, food, water, shoes, etc. Control yourself in the mountains specially during walking so you control your body mass and movement - as they always say, "Watch your step!" Think about your goal and the feeling of discovering new things by yourself which you did not know before. Listen to the trip guide's explanations and enjoy group discoveries. Touch with your naked hand the traces of old human settlements and civilizations which belong to all humans. (That is why the UN protects some places). The late Sheikh Zayed has said, "A human without a past is a human without a future"

I hope these words can help Alan visit the mountains and do other things also which he fears. As someone said before, "If I have one day left in my life, I will use it to know and build the lives of others - to continue writing the human history."
---------------------------------------------------------------------------------------------------------------------------------
| | |
| --- | --- |
| The ENHG Newsletter… February, 2005 – Issue #225 | |
Al Ain English Speaking School – Year Five Field Trip
courtesy of AAESS
On Monday and Tuesday, January 17 & 18, three ENHG members accompanied the AAESS year five – all 40+ of them – together with several teachers and parents, to several local sites of interest. Here are some of the letters of thanks generated by the students after they returned to classes.

| | |
| --- | --- |
| | There just isn't space to print all the letters – sorry – so we chose a few, just to share the enthusiasm these students showed on the trip. |
---------------------------------------------------------------------------------------------------------------------------------
| | |
| --- | --- |
| The ENHG Newsletter… February, 2005– Issue #225 | |
Al Ain English Speaking School – Year five Field Trip cont...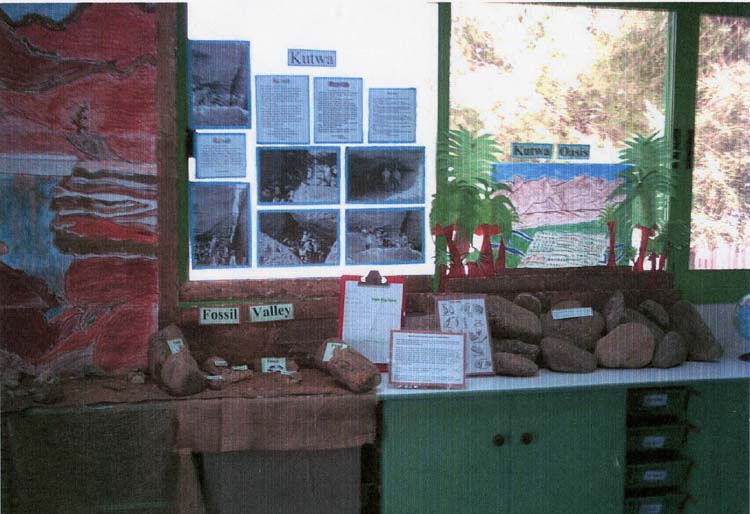 The students also put together a wall display depicting some of their experiences.
You're welcome Year Five – We enjoyed it as much as you did!
---------------------------------------------------------------------------------------------------------------------------------
| | |
| --- | --- |
| The ENHG Newsletter… February, 2005 – Issue #225 | |
First Annual International Date Palm Festival
article and photos by Bob Reimer

The First Annual Date Palm Festival was held at the Islamic Institute, UAE University from December 14th to 16th, 2004. The event was organized by the Date Palm Friends Society and occupied two large tents taking up one end of the UAEU parking lot. In conjunction with the trade show, a scientific conference was held to discuss various aspects of date palm cultivation and exploitation.
| | |
| --- | --- |
| The exhibition was opened by our patron, H.E. Sheikh Nahayan Mubarak Al Nahayan on Tuesday morning. The trade show displayed everything from the cultivation of date palms through cloning as studied by the UAEU College of Agriculture, through commercial date processing from all over the Middle East and North Africa, to use of palm fronds and logs for making construction materials. There were lots of samples of dates to try and buy. There were some delicious date concoctions that I hadn't had the opportunity to try before. | H.E. Sheikh Nahayan Mubarak Al Nahayan opens the exhibition |
There were some delicious date concoctions

Exhibits by the Al Ain Depart-ment of Antiquities, Fujairah Heritage Village, the Emirates Heritage Club and Darwish Heri-tage House of Ras Al Khaimah highlighted the rich impact the date palm has had on the lives of people in the UAE. The Department of Antiquities was particularly generous in their provision of traditional foods for sampling, although their samples were more like a full meal!
While most of the literature avail-able at the festival was in Arabic, several exhibitors provided some interesting material in English. The Private Department of the President provided a nice pamphlet on
---------------------------------------------------------------------------------------------------------------------------------
| | |
| --- | --- |
| The ENHG Newsletter… February, 2005 – Issue #225 | |
First Annual International Date Palm Festival cont...

the various date varieties with an emphasis on when they matured.
The Al Ain Municipality had publications on the Falaj and Oases of Al Ain and on Major Pests of Date Palm in UAE. I was able to obtain copies of the proceedings of past date palm conferences for our library courtesy of UAE University.
All the exhibitors are to be commended for their efforts. The festival was interes-ting and informative. I want to especially thank the Department of Antiquities for their interesting booth and excellent food. I certainly hope that there is a Second Annual International Date Festival next year. If you missed this one and there is, be sure to go!

One of the many exhibits at the conference
Musah to Khutwah – a Hiking Misadventure
article and photos by Brien Holmes
The planned hike between Musah and Khutwah, through the mountains, began routinely enough. However, for the four participants, the walk ended as an unforgettable experience.
The four, all experienced hikers, set off early Thursday, February 3 with the plan to explore and, if possible, complete the trek between the two mountain villages. In previous months, various teams from the Al Ain chapter had explored the possibility of an established path beginning from the Khutwah side. The teams had discovered a well-worn path from Khutwah past two abandoned villages and ending in a bowl about half way to Musah. One exploratory hike, completed at the end of December, ended at a waypoint called a 'Turn Back", the summit of a mountain where the group decided they did not have sufficient daylight remaining to make it through to Musah.

Left: Map of the region - roughly a 10 km straight line distance from Masah to Khatwah
---------------------------------------------------------------------------------------------------------------------------------
| | |
| --- | --- |
| The ENHG Newsletter… February, 2005 – Issue #225 | |
Musah to Khutwah – a Hiking Misadventure cont...

The plan on February 3 was to follow wadi beds from Musah towards "Turn Back". Having reviewed satellite images of the area with Bob, the group was reasonably confident the route existed though at least two mountains would have to be crossed, one near Musah, the other at "Turn Back".
The day began by leaving one vehicle at Khutwah, where the group stopped to watch workmen trimming date palms. As the material was removed from the top of each palm, the grubs of the date weevils were left on the ground. The group collected a few specimens and left them under the truck, to collect at the end of the day. The four then drove back to Musah to begin the hike.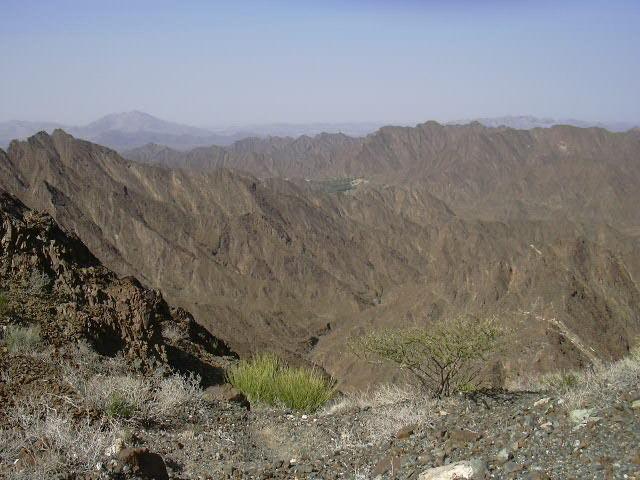 The view from the BNHB summit out of Musah
The planned route was to hike straight back into the mountains from Musah, looking for an obvious route to the east. After about an hour, the four were climbing up out of the wadi that extends beyond Musah, and heading for "Turn Back".
The four climbed to the summit, approximately 920 m high, and enjoyed the view back. The oasis of Musah was clearly visible and, beyond, the town of Mahdah. The location was entered in the GPS as "BNHB".
Ahead, the route to "Turn Back" was visible. The group would have to descend into the labyrinth of wadis and mountains; it was apparent that the traverse could be made without having to climb any other summit until the ridge at "Turn Back". However, the network of valleys and wadis was like a maze. The GPS would be important to find the direction.
After descending from "BNHB", the group quickly made its way across the expanse and was soon climbing up to "Turn Back". There were numerous small ravines stretching down from the ridge and, after exploring, a decision was made to abandon the hike, even though the group was about 100 m or less from crossing the ridge and descending down onto the Khutwah side. The group had made very good time; it was shortly after 1 pm and there were still many hours of sunlight. They had most of their food remaining, and there were dozens of pools of fresh water available, though all still had some water.
The plan, if the hike had to be abandoned, was to return down to the network of wadis and make our way out, exiting near the new village of Khutwah. We felt a combination of satisfaction and regret; satisfaction that we now knew there was a route, though obviously not an easy walking route; regret that we had not made it that day.
---------------------------------------------------------------------------------------------------------------------------------
| | |
| --- | --- |
| The ENHG Newsletter… February, 2005 – Issue #225 | |
Musah to Khutwah – a Hiking Misadventure cont...

After 5 pm, the group was making its way down the wadi and was within a few hundred meters of exiting the mountains when they were faced with their first real obstacle of the day. The rains had created a water hazard, several pools of deep water, with steep, slippery drops into each pool. The only other obvious route was over a steep drop of three or four meters. The group was stuck. There was no time to reverse and head back to "Turn Back" or to "BNHB". They were stuck.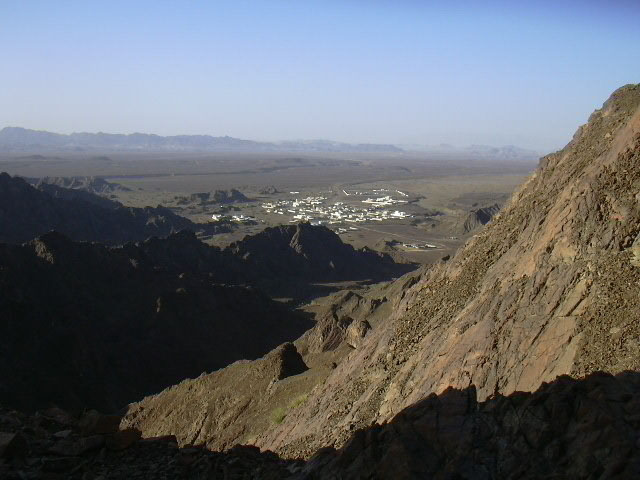 Khutwah at sunrise – so close, yet so far
The group made its way to the top of the gravel beds and a decision was made that someone should get a message out to our friends and family in Al Ain. We knew that some would be very worried as we would soon be overdue for the scheduled return to Al Ain. We also did not want anyone coming out in the morning to try to find us on foot; they would never be able to locate us in that maze. We did not have any phone access though one member of the group did manage, somehow, to receive at least two phone calls in the most unusual situations. Finally, we wanted to get word out that we were all safe – well, but awkwardly stuck.
So two of the four remained at the location, now known on the GPS as "Stuck", while two others headed out to contact friends, get supplies and return to lead the others out. Before long, it was very dark; the moon would not rise until almost dawn. One of the two was uncomfortable with walking in the dark – the group had only one flashlight – so they returned and two others set off.
Because the plan had been to hike for most of the day and return to Al Ain that night, no one had brought any supplies for sleeping in the open. Nor did anyone have any matches. We were conscious of the fact that our batteries were running low and we could not afford to have the GPS fail. We always knew where we were; we were just not able to find a safe route out of the mountains.
While two huddled on top of the gravel plain at "Stuck", the two others hiked until they managed to get a telephone signal around 1:30 Friday morning. Because of the darkness, it was impossible to make good time and crossing summits was dangerous because they could not see down the opposite slopes. By 3 am, the two had to abandon plans to get back to the vehicle at old Khutwah; they were now stuck on a ledge overlooking the new town of Khutwah. Though the village was clearly visible below, seemingly just a few hundred meters away, the two were stuck on a ledge about 700 m high, with no way down and no possibility of climbing up until there was more light. It was a long, cold night for the four.

---------------------------------------------------------------------------------------------------------------------------------
| | |
| --- | --- |
| The ENHG Newsletter… February, 2005 – Issue #225 | |
Musah to Khutwah – a Hiking Misadventure cont...

At first light, while two waited patiently at "Stuck", the other two looked quickly for a way to the vehicle at old Khutwah. However, before noon, they realized they were not going to find a quick route down to the oasis so they decided to return to "Stuck" and lead the group out via "BNHB" to Musah.
The reunion was mixed with regret that we had not been able to reach our friends or the vehicle and happiness that we had all made it through the night. And so we headed off to "BNHB" and Musah, up the wadi bed we had walked down the afternoon before. By now, many of the features were familiar.
With the GPS device showing us just a few hundred meters from "BNHB", we looked for our route back up the mountain. However, we could not find a safe route. By this time, late Friday afternoon, we had been walking for two days and were emotionally and physically exhausted.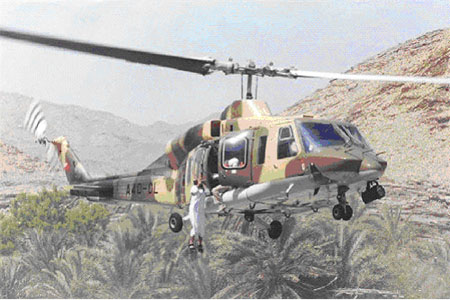 Bell 214ST helicopter similar to the one used in the rescue.
(photo courtesy of ROP website - http://www.rop.gov.om/gallery/igcontent.asp?img=41)
The group made several attempts to find an easy and safe route to the ridge but, with daylight hours dwindling, failed to find a route.
Around 5 pm, we held a meeting on the gravel plain and agreed that there were just too few hours of sunlight remaining and that we were going to have to spend another night in the mountains. The plan was to descend into the wadi bed, scoop out a depression in one of the gravel beds, line the depression with grass and get a good night's sleep. Then, in the morning, we would decide whether to continue to look for a safe way out to Musah, or return to "Turn Back".
Just moments after the meeting concluded, we heard the sound of a helicopter approaching from our left. We quickly started waving our arms and backpacks and anything else that might attract the attention of the people aboard the helicopter. However, it continued towards Khutwah and, we thought, on its way.
Then, we noticed it was circling over Khutwah and we were then confident for the first time that the helicopter was searching for us. After a few minutes, it returned, this time flying straight towards us. In moments the headlights of the helicopter flashed; they had spotted us. It flew overhead then circled back, landing on the gravel plain on the opposite side of the deep wadi where we had been planning to spend the night.
Four men emerged from the helicopter, including Bob who had no doubt joined the crew because of his knowledge of the area from maps we had studied. One of the crew fired two smoke grenades to measure the wind direction and speed. Then the crew signaled to us to remain where we were. In a few moments, the helicopter had lifted off again, flown to the narrow gravel plain where we were waiting; we quickly climbed aboard. Then a quick jump back across the wadi to pick up the three who were waiting there, and a short flight back to Musah.
---------------------------------------------------------------------------------------------------------------------------------
| | |
| --- | --- |
| The ENHG Newsletter… February, 2005 – Issue #225 | |
Musah to Khutwah – a Hiking Misadventure cont...

Unbeknownst to us, our friends in Al Ain had started to organize a rescue with local police before noon on Friday. The police officials in the UAE and Oman were both extremely cooperative and supportive and a host of ENHG members came forward unselfishly to do what they could to help, whether responding to our telephone messages for supplies, translating at the police station, or coordinating the information network to distribute news to worried individuals around Al Ain and beyond.
As I reported shortly after the experience, while I was picking up my truck in Khutwah, I was greeted by several of the Afghani workers who manage the farms in the oasis. All were grinning and pleased that we had made it out safely. And our dear friend Obaid, sitting in front of his house in Khutwah, smiled when he recognized me. He knew my truck had been there and the police had visited the village many times Friday to enquire if anyone had seen any sign of us. Obaid said we must celebrate the safe return by preparing a meal with a freshly killed goat or sheep!
All of the hikers returned exhausted and suffered only a few minor scraps, typical of a hike in the sharp stones of the Hajjar mountains. We also had many mosquito bites; the rain had provided lots of fresh drinking water but it had also provided numerous pools for mosquitoes to lay eggs.

The Committee held a special meeting to review the events of the weekend. A set of recommendations was prepared and was considered by the full Committee at its regular meeting in March.
There was an acceptance that, even with the most efficient and thorough planning, situations can develop that are unforeseen. However, with some additional precautions taken in advance, some of the frustrations experienced by both the hikers and the rescuers could have been avoided.

Among the recommendations being considered:

- purchase of a satellite telephone

- a special mountain hiking pack including matches, chalk, head lamps, batteries, and space blankets

- designated contact person to be notified of the size of groups heading into the mountains; if the contact person is not notified of the safe return by a designated hour, a plan of action is initiated automatically


Left: Why go there? – Because it is there – and it is a beautiful place to be – out there in nature!
Our thanks go out to the many people – especially the Omani and Emirati Police - who helped bring back our friends!
---------------------------------------------------------------------------------------------------------------------------------
| | |
| --- | --- |
| The ENHG Newsletter… February, 2005 – Issue #225 | |
A Study of Jebel Ali Beach,
as conducted by a group of enthusiastic environmentalists
from The British School Al Khubairat, Abu Dhabi,
and with the support of the ENHG, Al Ain Chapter

article and photos courtesy of Camilla Baba
former Al Ain resident/ENHG member
On the weekend of 2 – 3 February, a group of enthusiastic environmentalists from The British School Al Khubairat, Abu Dhabi, conducted a study of Jebel Ali Beach as part of the BEA scheme, a competition organized by Shell Cooperation. We were privileged to have had our proposal chosen by the organization to receive a grant of DH 3,000 to aid us with our study.
| | |
| --- | --- |
| Two lads doing a grid survey. | Hey! Who ate all the peanut butter? |
We went. We saw. We investigated!
After a number of delays in the form of public holidays and ski trips, not to mention schoolwork, we were finally able go forth and investigate. Unsure of what to expect, or what would be successful, we packed up over 3 truck-loads of equipment, not to mention enough food to feed a starving nation!!!
Thanks to the Al Ain Natural History Group coming to our rescue, by providing us with not only equipment, but also ideas, advice and energy, and armed with a previous survey by the ENHG, Abu Dhabi, we were able to investigate many different aspects of the beach and its environment. Though some experiments were more successful than others (the fiasco of the malaise trap - it blew over twice!! Sorry Brigitte!), we realized that these were not problems, but in fact were discoveries within themselves.
Accompanying us were the fathers of three of the group members, Patrick Sullivan, Alan Mcgee and Javeed Sayeed (a round of applause, please) who were our support group, our cooks and our mentors, and altogether indispensable!!
Now all we have to do is analyze what we found (yet another obstacle)!!
Once we have made sense of what we found, or more often than not, did not find, we will update you all further. Wish us luck!!!
---------------------------------------------------------------------------------------------------------------------------------
| | |
| --- | --- |
| The ENHG Newsletter… February, 2005 – Issue #225 | |
The Arabian Peninsula - Pieter Van Der Aa (1659-1733)
Van Der Aa (Dutch) was apprenticed to the booksellers trade at the age of nine, progressing later to bookseller and auctioneer. In 1692 he was appointed as a High Commissioner of The Booksellers Guild. He was a prolific map publisher working in Leiden, Holland during the early 18th Century.
Much of his output consisted of re-issues and re-engravings of maps and plates that he had acquired from earlier mapmakers. Though little of his output was original, the few that were confirmed him as stylish and quite revolu-tionary in his design. Several of his atlases contain a clever and interesting method in that he printed these maps inside a separate border. He basically used two engraved stamps; one an elaborately inscribed outer border like a picture frame and the other the map …Observe the yellow picture framed map illustrated and you will see very slight variance in the alignment of the map inside its frame. Not bad for 1710!
His most remarkable work was the elaborate 100 set limited edition of "Galerie Agreable du Monde" issued in 1729 in 66 parts bound into 27 volumes and containing 3000 plates. Another was the "Cartes des Itineraires et Voiages Modernes" weighing in with 28 volumes of travel accounts illustrated with small but finely engraved maps often with decorative pictorial title pieces.
Van Der Aa loved to use the sea on his maps as his canvas to illustrate huge and elaborate cartouches, map keys, topical scenes, sea battles, and compass roses.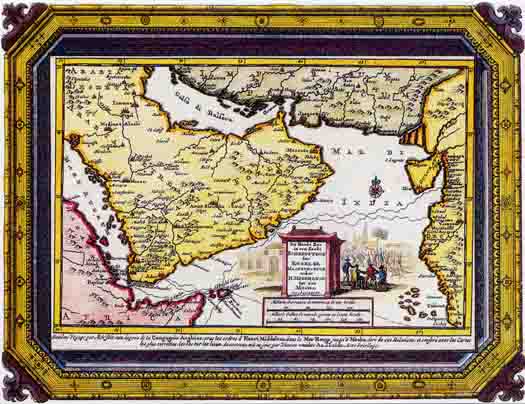 The Arabian Peninsula - the original image is 30 x 23 cm
---------------------------------------------------------------------------------------------------------------------------------
| | |
| --- | --- |
| The ENHG Newsletter… February, 2005 – Issue #225 | |
article and photos by Brien Holmes
Three students from the Al Ain women's campus of the Higher Colleges of Technology enjoyed the mountain hike from Khutwah oasis to "Village One" Thursday 17 February, part of the students preparation for a weekend of camping and hiking. When we were approached by the College to see if we could offer a hiking opportunity for the students, we presented a number of options but settled on this interesting hike into the mountains near Khutwah. This is one trip that the ENHG group has enjoyed on at least three occasions this season, including one hike in the moonlight.
| | |
| --- | --- |
| Taking a break in the water-filled wadi | Hiking along the donkey trail |
The three women were preparing for an "outdoor adventure" experience that would eventually lead to a certificate, similar to the Duke of Edinburgh program. The weekend includes overnight camping, preparing meals and hiking. The ENHG was asked to organize a practice hike that would last up to five hours.
With two instructors from the HCT along for the day, we began in downtown Khutwah with a brief visit to Obaid's house to chat with Obaid and his sister Fatima. The students were impressed with Obaid's hospitality and stories. After a quick inspection of the oasis clock – now relocated yet again to another location in the square – we headed up through the old houses and through the oasis on the footpath.
The students were shown some of the copper smelters at Khutwah, as well as the Islamic and pre-Islamic graves along the route. One of the students was familiar with the prayer that is often recited when encountering a grave; she has promised to provide a translation as soon as possible. The students were very interested in the archaeology of Khutwah and were impressed that the site had been occupied as long as it had.
From the smelters the group proceeded to Sultan's Oasis before turning up the side wadi and heading into the mountains. The pace was considerably slower than a regular ENHG walk. The group paused at Sultan's Oasis to take photos of one of the two donkeys that are now resident at the oasis.
In the mountains, the group moved slowly along the trail, the students curious about the geology and the features that dotted the trail. The sun-bleached bones of a donkey were especially interesting and each student collected a sample to take home.
One new sight was a series of circles that had been scratched into the surface on top of the gravel plains. At first, it appeared these had been made by an individual using a stick to scratch out crude circles. Later, it was apparent the marks had been made by someone on a motorcycle who was following the trail, at least as far as the 'donkey trail'. Along the trail there were signs of the motorcycle following the path.
With all the stops to appreciate the archaeology, geology, donkey bones and other attractions, it took almost two hours for the group to reach "Village One". The students were amazed to find an abandoned village in such a remote place. They made a quick study of the remains, took more photos, and relaxed before heading back to the vehicles.
The Al Ain chapter was pleased to have this opportunity to work with the HCT and provide some community service. We look forward to finding more ways to share some of interests and experiences with the students in the near future.

---------------------------------------------------------------------------------------------------------------------------------
| | |
| --- | --- |
| The ENHG Newsletter… February, 2005 – Issue #225 | |
Recycling Center Officially Opened…


article by B. Howarth & photos by B. Reimer
On February 22nd a long-awaited event finally took place. For quite some time ENHG had been looking into possibilities of participating in some way to waste reduction, and recycling of materials is a way of doing such. Therefore, several months ago we talked about a program with Al Ain English Speaking School (AAESS). Literature obtained from the Emirates Environmental Group (EEG) discussed a scheme where, with the aid of a corporate sponsor, a recycling centre is erected in a prominent place so that easy access is gained by members of the community to deposit their materials for recycling. From the beginning of our enquiries, AAESS has been happy to provide the location for the centre, and so a corporate sponsor had to be found. Professional Investment Consultants (PIC), based at the Hilton Hotel, was approached and they very kindly offered to cover the complete cost of purchasing and implementing the recycling centre.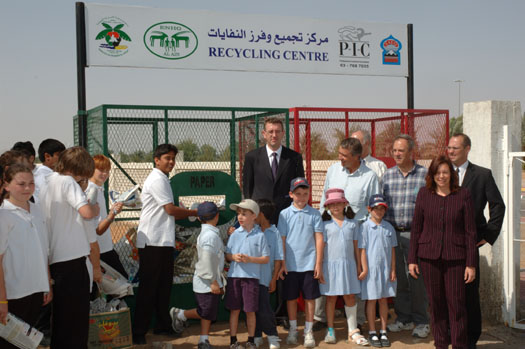 The official opening of the Recycling Center
L-R Front row: AAESS students, S. Brannon - Head of Primary, AAESS,
2nd Row: T. Ashton - PIC, B. Holmes - ENHG Chair ,
Back Row: , G. Cosson - Head of Secondary , AAESS, W. Moore - ENHG, J. Verster - PIC
So, an order for two crates was placed, one to hold paper and the other to hold metal cans. The crates arrived sometime in January and the sign was put in place last week. With the units in place, the official 'opening ceremony' took place as mentioned above, on the 22nd of February, in the presence of the Chairperson of EEG, Habiba Al Marashi, students from the Primary and Secondary School at AAESS, Heads of Primary and Secon-dary School, Sarah Brannon and Geoff Cosson, Tony Ashton and Jaco Verster of PIC, members of the Al Ain ENHG, and a welcome surprise visitor, Mr Ahmed Sultan Al Nuaimi from the Health Education Department at Al Ain Municipality, the gentleman who had been heavily involved in the EEG's Clean-up UAE campaign in Al Ain.
Al Ain Municipality does have various waste management projects ongoing, much of which the general public either doesn't get to see, or simply isn't aware of. Separation of waste is in place, but separation at source is something Al Ain Municipality is striving toward with schemes such as the pilot scheme of red and green bins in some districts around Al Ain. Thus, with our project we are supporting efforts of Al Ain Municipality. But why only paper and metal? Our Chairman, Brien Holmes, explained the reasons in an email to our discussion group. He wrote:
"Plastic: with so many plastic processing plants in the country, there is a huge supply of plastic from factories. In fact, plastic recycling operations in the UAE have, it is estimated, sufficient supplies on hand to meet their requirements for the next two or three years.
Glass: Likewise, the glass recycling plants in Jebel Ali have a good supply of glass for recycling and so there is no market for glass collected from recycling centers. However, Habiba noted today that there are changes underway at Jebel Ali, requiring plants to reduce waste emissions. Since it is more efficient -- and there are fewer emissions -- associated with recycled glass, it is hoped that a market for recycled glass will exist in a year or more.'
---------------------------------------------------------------------------------------------------------------------------------
| | |
| --- | --- |
| The ENHG Newsletter… February, 2005 – Issue #225 | |
Recycling Center Officially Opened…
It is possible, therefore, that we may expand the recycling unit at a future date.
For now, waste can be reduced in the form of any paper whatsoever, and any metal cans. When collecting your materials for recycling, please bear the few guidelines below in mind.
• Location -- The recycling bins are located just inside the gate of
the school staff car park, near the caretaker's house. The sign is clearly visible from outside. Should the gate be closed, leave your material near the gate and the caretaker will ensure it gets deposited in the bins later.
• Cans -- either aluminum or tin -- should be rinsed; if possible, remove any labeling material. If you are using a carrier bag to carry the cans in, please do not include it in the crate with the cans but take it back to be reused at a later date.
• Paper -- We can accept any paper product -- newsprint, card stock,
corrugated paper, magazines -- preferably tied with non-plastic string. Please do not deposit any envelope with a plastic window or envelopes with adhesive. Thermal fax roll paper is also not to be deposited.
We, together with AAESS will be in competition with other schools to see which school can collect the most material for recycling (based on weight). Schools are eligible to win a new laptop computer, a new desktop computer, a new digital display unit or other prize.
The last item remaining is to thank everyone involved in this initiative. We are delighted that PIC funded this project and our sincere thanks go to them. We are also thrilled that AAESS has been supportive in the implementation of the Centre, and thank them for providing the site for the bins. Many people have persisted with enquiries with regard to recycling in our community and so our thanks go to them for encouraging us. Thank you to the Al Ain people for supporting this initiative.
| | |
| --- | --- |
| L – R: Habiba Al Marashi– EEG, students – AAESS, B. Holmes – ENHG, S. Brannon – Head of Primary School, AAESS | THIS is how you do it – RIGHT! |