Stone Constructions, Graves at Wadi Khudrah
---
Stone Constructions, Graves at Wadi Khudrah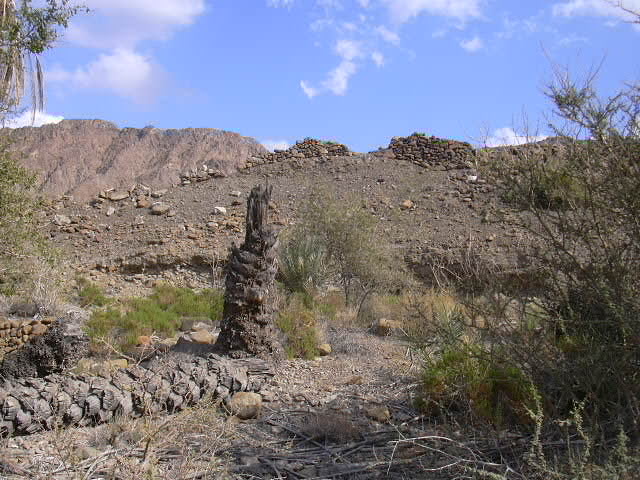 Wadi Khudrah, at the head of Wadi Sharm, is a large oasis tucked inside the long curve of the wadi. It is an ideal destination for school trips and the Al Ain chapter has taken several classes of students to the oasis over the years.
The oasis is interesting for the range of stone constructions and the large cemetery.
At one time, the oasis was known for its "crop circles". These constructions, located on the gravel plain overlooking the oasis, were unclear for some time. On one field trip, however, some residents of the oasis explained several of the buildings. Each circle, one man said, were to be used as a majlis. He also pointed out a school and an Eid prayer ground.
The group was already aware of the extensive Islamic cemetery and the mosque located nearby.
The photos in this collection show some of the detail of these buildings and sites.

Deliberately placed stones are indications of some kind of structure

Well-constructed walls are the easiest to spot

This wall a typical 'two-wall, gravel-filled' wall we see in mountain structures

The purpose of this wall is uncertain

Detail of one of the Khudrah walls

Most walls are not more than two or three courses

This wall is part of the old school building

This wall appears to fade into the gravel plain

The school building included a small room, perhaps provided for the instructor

All stones used appeared to be from the top of the gravel plain based on the covering of desert varnish

Some sections of wall had very little fill material

Pottery in the area of the buildings is very minimal

The walls outline the school

Base of a small pot

Gently curving wall of one of the many majlis constructions

Another section of majlis wall

Laurence inspecting another of the majlis buildings

Photo showing how all rocks appear to have been removed from inside the wall

Some constructions remain a mystery

Another construction that could be an ancient grave

Placed stones but the function unknown

Wall of a majlis

Section of wall for one of the larger buildings, perhaps a house

General view of plain with several small constructions, purpose unknown

View from opposite angle

This site was described as house by one oasis resident

The wall construction is minimal for this house putting the claim in some doubt

Most likely a small pen for a newborn lamb; the ewe would stay with the lamb for a few days

Another view of the building reported to be a house

A mound of stained stones near a small scattering of graves

A majlis

Detail of the wall of the majlis

Manmade but function unknown given poor condition

What appears to be a grave with a pile of stones on top; very unusual

Another gravesite perhaps

Another view of what may be an ancient grave

More typical early Islamic grave with two stone markers

Remains of a 'bait khaimah' near several graves

Detail of one wall of the 'bait khaimah'

Another section of wall of the house

Beneath a pair of acacia trees are several graves, including infant graves

Three graves

Adult grave

Evidently the grave of a juvenile

Another juvenile grave near the house

The large cemetery

Child's grave in the large cemetery

The cemetery at Khudrah is one of the largest Islamic cemeteries in the area

Some graves at the site appear to be very recent

Another section of the cemetery

The open-air mosque

Another view of the open-air mosque

A child's grave, perhaps, but with unusual construction

Two-walled construction below the cemetery

This could be a simple retaining wall

Terrace wall construction

What appears to be a square majlis

Detail of a section of wall of the square majlis

Near the square majlis, the low walls are very thick

Tall sloping wall surrounding small terraces

As indicated, the wall is over a meter in height

The stone construction includes gravel fill

Two walls on two elevations

Odd location for walls; no terraces or structures in the area

The weir directing water into the oasis, one of three water sources

View downstream from the weir
---
---