Bulletin 39 - November 1989: Turtle Rescue on Das Island
---
Turtle Rescue on Das Island
by D.C. Heath
On 16.8.89 I was informed in a frantic phone call that some turtles were trapped in the new ADGAS sea water intake basin on Das Island. I immediately investigated and saw five turtles swimming around, having entered via a 200 metre pipeline out to sea. Chlorine is injected into the basin to kill any marine growths and I assumed this would be detrimental to the health of the turtles. A rescue mission was launched.
On 17.8.89 six of us sized up the situation. The turtles were swimming around the perimeter of the basin so we decided to net them one by one as they swam by. Using a large landing net, we succeeded after some antics to bring the first specimen ashore. It was quite large and obviously none too pleased at being out of the water. However, we managed to sex, weigh and measure it and then mark the carapace with the legend DAS 1 in yellow waterproof marking. It was identified as a Hawksbill Eretmochelys imbricata. We then transferred the turtle in a pickup to the south end of the Island and released it into the sea.
The next capture was a 29 kg turtle, a very lively creature that was quite indignant at being subjected to weighing and measuring. This one too was released at the south end of Das.
The next day we managed to net the remaining three turtles which were duly released unharmed. The following Friday, while I was on leave, another two turtles were captured, one of which was fairly small and missing one flipper -- a shark attack? In mid-September it was reported that another two turtles were in the same basin, but these had not been rescued yet. The first five turtles were all measured and marked in yellow Das 1 -5.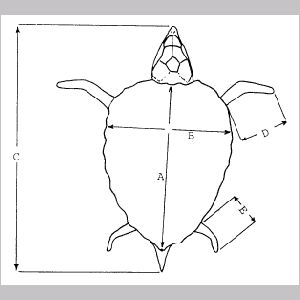 Key

A = Length of Carapace
B = Width of Carapace
C = Distance Nose to Tail
D = Front Flipper
E = Hind Flipper


Turtle 1
Marked in Yellow on Carapace DAS 1
A = 560 mm Circ of carapace 1 m 550 mm
B = 530 mm Weight 22 kg
C = 760 mm Sex Female
D = 270 mm
E = 150 mm


Turtle 2
Marked in Yellow on Carapace DAS 2
A = 630 mm Circ of carapace 1 m 740 mm
B = 600 mm Weight 29 kg
C = 810 mm Sex Female
D = 280 mm
E = 220 mm


Turtle 3
Marked in Yellow on Carapace DAS 3
A = 515 mm Circ of carapace 1 m 360 mm
B = 485 mm Weight 13.5 kg
C = 650 mm Sex Female
D = 215 mm
E = 140 mm


Turtle 4
Marked in Yellow on Carapace DAS 4
A = 430 mm Circ of carapace 1 m 160 mm
B = 410 mm weight 11.5 kg
C = 590 mm Sex Female
D = 210 mm
E = 180 mm


Turtle 5
Marked in Yellow on Carapace DAS 5
A = 660 mm Circ of carapace I m 680 mm
B = 600 mm Weight 29 kg
C = 800 mm Sex Female
D = 280 mm
E = 200 mm


These readings are as accurate as possible considering the turtles were struggling somewhat.

Hawksbill turtles have a carapace length of up to 900 mm, and are distinguishable by the distinctly overlapping horny plates. Sometimes old adults lack this feature, but the species can be distinguished from the similar Green Turtle by the scales on the snout, as depicted here: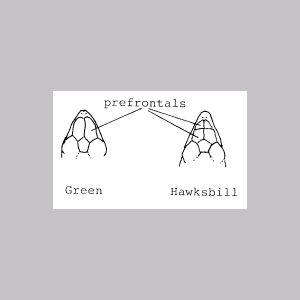 Hawksbill turtles are omnivorous but eat mainly animal food. This turtle is the main source of tortoiseshell, and is exploited throughout the world.