Sandy Fowler - A Rough Sheller's Guide to the Northern Emirates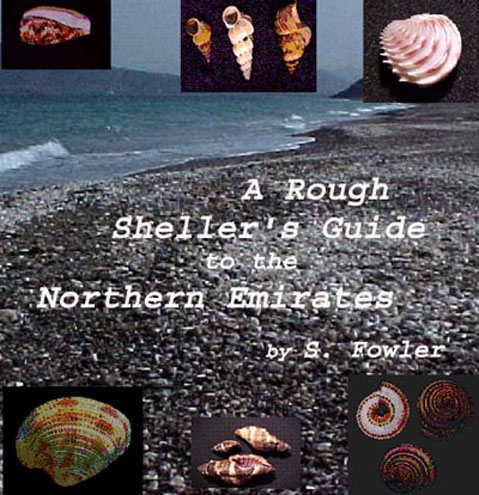 Sandy Fowler - A Rough Sheller's Guide to the Northern Emirates
Dr. Sandy Fowler was a long time resident of Dubai and member of the Dubai Natural History Group. His contribution to the collection, identification, cataloguing and recording of sea shells in the Emirates was recognized at the Inter-Emirates Weekend of 2005 with the presentation of the Bish Brown Award.
Besides his outstanding collection of shells and his records database, Sandy has provided all interested shellers with an outstanding resource, his Rough Sheller's Guide to the Northern Emirates. This 50 page work is now available for download here in Adobe Acrobat format. This book will tell you where to look for shells, the types of shells you might find and is profusely illustrated with beachscapes and shells. This book along with Seashells of Eastern Arabia by Bosch, Dance, Moolenbeek and Oliver, will help many beachcombers in UAE and Northern Oman better appreciate what they are finding.
We were saddened to learn that Dr. Fowler passed away on November 23rd, 2009. The following obituary appeared in the December 2009 edition of Gazelle:
Dr. Alexander P. "Sandy" Fowler died in Dubai on 23rd November, from complications associated with the treatment of an aggressive lung tumor. Sandy and his wife Beryl Comar discovered and joined the DNHG soon after they came to Dubai some 20 years ago. Both served on the DNHG Committee during the 1990s, when Sandy was Treasurer.
Although he was always modest and self-effacing, we quickly learned that Sandy would never say no to a request to help out. For many years he also served as the DNHG's Seashell Recorder and he earned the Bish Brown Award in 2005 for his Rough Sheller's Guide to the UAE. He donated attractive and diverse collections of UAE seashells to both ERWDA (now EAD) and the Jumairah English Speaking School, our former lecture venue.
Sandy's activities took him beachcombing at many UAE localities, and also into the desert at Sweihan, Liwa and in the Western Region, still quite remote in the 1990s. Sandy retired from his medical practice in late 2004 and celebrated by climbing Mount Kinabalu (on Borneo) and Mount Kilimanjaro (a trip he shared with us at Members Night in 2005) before settling down to somewhat more sedate touring and trekking in, inter alia, Mexico, Spain and Cyprus. Sandy and Beryl were trekking in the mountains in Cyprus as recently as October and it is difficult not to feel that his death was one of those that came too soon.
Carol Goodwright wrote, "It was Sandy who introduced us to the delights of shelling in Eastern Arabia and from our first DNHG outing with him to Mercato Beach in Sept. 07, we were hooked. His expertise was phenomenal and his enthusiasm for 'pretty things', as he called the shells that day, was infectious. Personally, I owe him a huge debt as shelling not only opened a whole new world of wonders for us in the UAE, but, more importantly, brought me into a circle of shell enthusiasts with whom I shared many shelling 'adventures'. Sandy kept in touch after he moved to Cyprus, kindly identifying several species I was unable to find in my sheller's bible."