Jebel Qattara plain field trip
---
Jebel Qattara plain field trip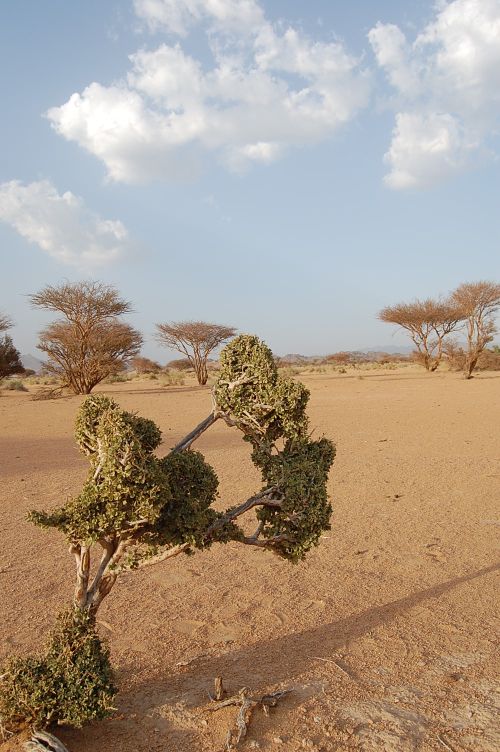 The plain behind Jebel Qattara is the location for an interesting field trip because of the diversity of habitat.
The route normally taken runs from the Wadi Agran roundabout along the base of the sandstone ridge, behind the 'black hills' and around to the southern slope of Jebel Qattara. The track then moves along between two ridges of colorful rock before a side track leads to the lookout where there is always a strong breeze. From, the track leads back down toward the wadi that drains the area, around the ridge of dark rock and across the plain, where a few camel farms remain, to the paved road.
Photographs here are from a number of trips.
Summer, 2007
During the summer of 2007, there were several trips across the plain. The following photographs were taken during those trips.
| | |
| --- | --- |
| Acacia is the most prevalent vegetation | A desert thorn has been shaped by grazing camels |
| Another desert thorn in the sandy area behind Qattara | The area is popular for afternoon and evening picnics |
| The wind-blown sand forms a gentle slope towards the base of the mountains | |
October, 2003
In October 2003, the Al Ain chapter enjoyed a drive from the Wadi Agran roundabout to Mahdah, exploring the changing landscape behind Jebel Qattara.
A few weeks later, the group tried some insect trapping in the same area.
Photographs from both events are presented below. Photographs by Geoff Sanderson
Insect Trapping in November
Photographs by Geoff Sanderson