Bulletin 3 - October 1977: A Short Walk in Abu Dhabi
---
A Short Walk in Abu Dhabi
by D.M. Corfield
When I have a few hours to spare I like to walk around the spit of land that has been formed by dredging operations at the southeast end of the Corniche. No matter what time of day or season of the year there is always plenty to be seen.
For example on New Year's Day when I walked round the spit with my family we found a dead shark (type unknown) about six feet long, which was only about 200 yards from the Khalidiya Palace Hotel. On a subsequent visit I pulled out some of the shark's teeth and have kept them with other items of interest collected from my walks. During the New Years Day walk we also found a small dead turtle. It looked like a Hawksbill, and was 18 inches long. Of course, we also recorded many sightings of birds, including Socotra Cormorants, Turnstones, Sanderlings, Grey Plover, Whimbrel, Kentish Plover, Ringed Plover, and various species of Gull and Terns.
An area of the beach about half a mile from the hotel was a good spot to look for fossils, but at this time of year there are very few to be found. Maybe the winter tides will reveal them again.
I have so far found 17 different types of seashells, most of which I have not yet identified, but included in the total are species of Murex (Muricidae), Olives (Olividae), Cowries, Bubble Shells (Tectibranchia), Oyster (Pteriidae), Scallops (Pectinidae), Top Shells (Trochidae), Spindle Shells (Fusinus), Mitre Shells (Mitridae), Auger Shells (Terebridae), and Venus Clam (Vereridae).
If you decide to walk round please make a note of anything you see and fill in a recorder's form, and hand it to the appropriate recorder or committee member. Every item recorded helps to build up our knowledge of this area. For example, when I first started to walk round the spit I found no evidence of crabs, but on a recent walk I noted more than 60 crab holes with their conical sand mounds immediately behind. By recording this simple fact we can show that nature is starting to colonize and use this new land already. I have also found many star fish (all around the spit), three sea snakes, sections of giant clam, and different corals.
Of the four species of fish I have found on the shoreline on 1st July 1977 (see sketches below) I have identified Type A as Acanthopagrus bifasciatus.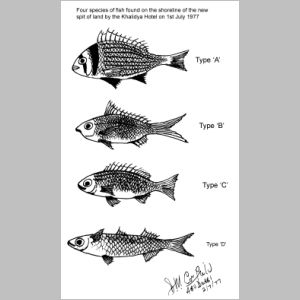 Reference: Tucker Abbot R. and Zim H.S. -- Sea Shells of the World
---
Flowering plants seen in Abu Dhabi between August and October:
Calotropis procera (Arabic -- Ashurr), a large bush seen close to a wall behind Jashanmals
Zizyphus spinachrista (Arabic -- Sidr) several large trees around the area of the 'new Suq'. Flowers of this tree are small and star-like, and the cherry sized yellow fruit is often sold in the market.
Portulaca oleracea (Common name -- Purslane) a spreading plant six to eight inches high and having fleshy leaves and stems. Solitary yellow flowers about three-eighths inches in diameter. Growing in isolated patches along side the footpath outside the many banks near the Clock Tower.